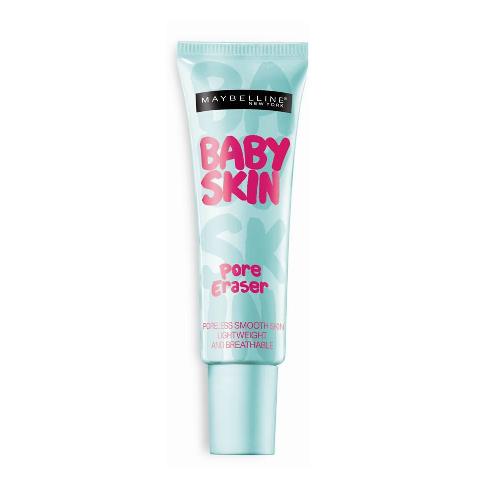 Maybelline Baby Skin Instant Pore Eraser Primer, .67 oz/$6.99 at Ulta
I love that the drugstore brands are putting out products that deal with oily skin and visible pores. I told you how much I love Rimmel Stay Matte Primer and now this! If you have issues with your pores this might be the drugstore fix for you! I don't have many issues with my pores but there are certain products that send them into overdrive. Mac Mineralize blushes are one of my biggest pore irritators. A few days of using those blushes made my pores into serious cheek craters! The great news is that after using the Maybelline Baby Skin my pores looked fantastic. Problem solved!
After smoothing a tiny amount on my cheeks my pores disappeared and my skin was matte as well! I think this is going to be a great low cost fix for most people that suffer with large pores they'd like to make disappear. I highly recommend trying it because for $7 if this can be the answer to all your problems then why not give it a go! The fact that you need a tiny amount is really nice also. The product comes out of the tube clear and it stays that way. You can also use this without makeup which is nice. On my deeper skin tone you can't see the product at all so it doesn't appear ashy in any way.
This product lasted all day long. From the time I put on my makeup to when I took it off. Excellent!
From Ulta.com:
Poreless Smooth Skin Perfection! One second to smooth, poreless skin. Get mistake- proof, poreless smooth skin with Maybelline New York Baby Skin Instant Pore Eraser Primer.
Poreless Smooth Skin Perfection!

One Second To Smooth, Poreless Skin

Visibly Pore Blurring Smooth Skin
Check this out at the drugstore if out of control pores are an issue for you. If your number one concern is your skin staying matte I'd go for the Rimmel product mentioned earlier. If you invest in Maybelline Baby Skin no one will ever know that pores are a problem so keep that in mind if you have a crater that needs cover!